This article by Dana Clark Felty appeared in the January 10, 2009 issue of The Savannah Morning News. The photos are by Richard Burkhart/Savannah Morning News.
At the time, the Right Rev. Harry Woolston Shipps wasn't sure he was making the right decision.
It was the late 1980s, and Shipps, then bishop of the Episcopal Diocese of Georgia, was torn over the debate over ordaining women.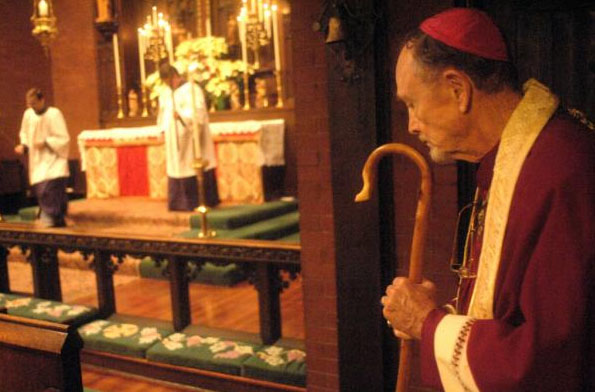 Shipps believed in honoring the tradition of the worldwide Anglican church, which did not approve.
"But as a long as (the Episcopal Church of the U.S.) said we could do it, I felt I could not impose my own feeling," he said. "And so I did it."
Now retired, the 82-year-old New Jersey native marks the debate over the ordination of women as one of the most significant moments of his lifetime in the Episcopal Church.
"I'm very happy it has come about. The church has been blessed with all these additional priests and bishops," he said.
This week, Shipps marked the 50th anniversary of his own ordination as a priest and 25 years since the day he was consecrated as a bishop with a Tuesday worship service at the Episcopal Church of St. Paul the Apostle.
New and equally weighty issues have followed the debate around women, such as homosexuality and evolution.
Shipps has welcomed them as opportunities to discuss and explore the meaning of faith.
As it did in his childhood in Bordentown, N.J., the Episcopal Church stands out today from other Christians as a church able to reconcile religious tradition and scientific understanding, Shipps said.
"Most people today realize that homosexuality is a given nature and, therefore, are more open to that. And that makes sense to me," he said.
"There are other things too, like the fact that the sun doesn't revolve around the earth, other things that weren't known in the biblical days. The Episcopal Church tries to understand this."

Welcomed challenges
Retired since 1995, Shipps spends his days at his Skidaway Island home reading and writing for theological journals. He assists with weekly worship services at the St. Paul where he preaches about once a month.
Shipps also attends Sunday afternoon services at Christ Episcopal Church, a congregation that is fighting for rights to the historic Christ Church building downtown, now occupied by members who severed ties with the Episcopal Church in 2007.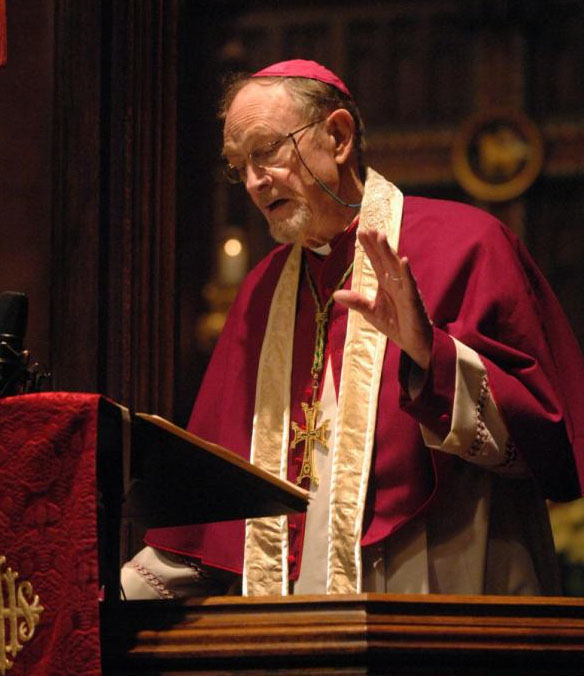 Christ Church in downtown Savannah represents one of a few churches around the nation that have criticized the Episcopal leaders on its interpretation of scripture, particularly involving homosexuality.
Shipps has mixed feelings about the movement to leave the Episcopal Church.
"I regret it very much. Some of my best friends are in it," he said this week. "But if that's the way they want to go, maybe that will be more peaceful than having all the bickering that has occurred in the past few years."
During his days as bishop, Shipps wasn't known for shying from controversy.
He once invited controversial Bishop Jack Spong to speak at a south Georgia clergy conference. Spong sent shock waves through the church in the early-1990s when he rejected the literal interpretation of the virgin birth and Jesus' resurrection from death.
"I did not concur with his theology," Shipps said. "The clergy here would fuss about it and I would tell them 'Look, I'm not responsible for Bishop Spong, but I tell you what I'll do. I know him well. I'm going to bring him down here for a clergy conference and you can have at him.' "
"He gave his talk which was very congenial and winning and although we didn't necessarily agree with him, he got a standing applause," Shipps said.
"After all these people griping about him, it was fun."
Respect for dialogue
Beyond serving the Episcopal Church, Shipps has worked toward better cooperation between Episcopalians, Catholics and other mainline denominations.
He and former Bishop Raymond Lessard of the Catholic Diocese of Savannah forged a covenant between the two dioceses for joint prayer and study.
Shipps "did a lot to bring the diocese into the national arena and international arena," said diocese spokesman the Rev. James Parker.
Although he supports the direction of the Episcopal Church, Shipps hopes American believers work harder to respect the values of Anglicans from other parts of the world.
"We just seem to think we are Americans and we are big and powerful and we can do what we want," he said.
"I regret that. We ought to be more humble."
Bishop Harry Woolston Shipps

Jan. 28, 1926, born in Bordentown, N.J.

Education: 1946, graduated from New York State Maritime Academy; 1958, graduated from School of Theology at the University of the South, Sewanee, Tenn.

Career: 1946-1955, officer in the U.S. Merchant Marine and, later, in the U.S. Navy; 1959, ordained as a priest in the Diocese of New Jersey; 1984, consecrated bishop in Christ Church in Savannah; 1985-1995, served as Bishop of the Diocese of Georgia; 1995-1999, served as Assistant Bishop of the Diocese of Dallas as Assisting Bishop for portions of four years.

Family: 1953, married Louise Huntington Rosenberger, with whom he has four children and eight grandchildren.