The Episcopacy of the Rt. Rev. George Paul Reeves
Seventh Bishop of Georgia
Written by the Rt. Rev. Harry W. Shipps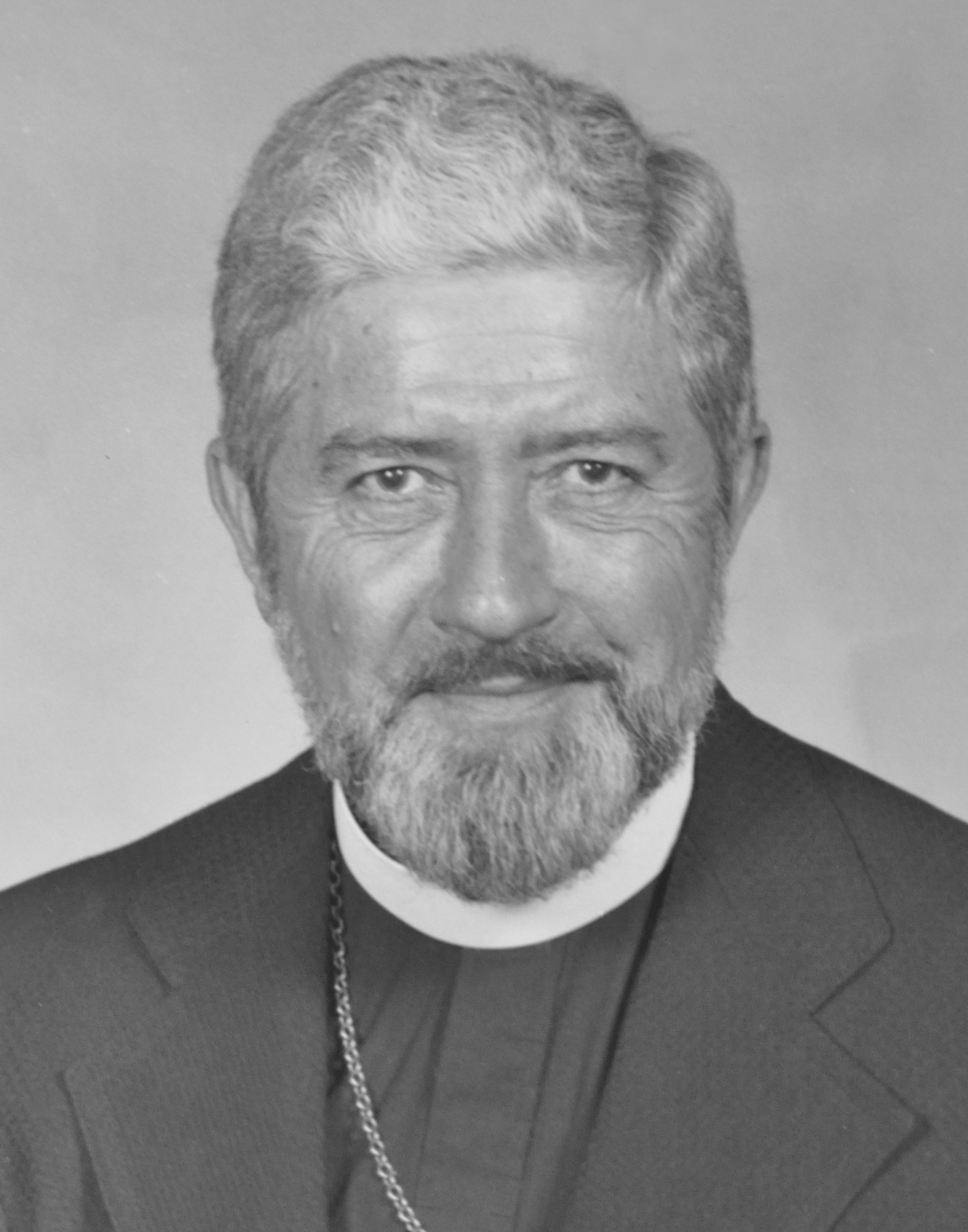 Bishop Reeves was born in Roanoke, Virginia on 14 October 1918, and he and his wife Adele have two children. He graduated from Randolph Macon, and in 1943 from Yale Divinity School; his ministry initially was in United Churches of Christ. After service as a Chaplain in the US Navy, he became an Episcopalian and was ordained an Episcopal priest in the Diocese of Florida. He was canonically resident in the Diocese of South Florida when elected bishop coadjutor of the Diocese of Georgia. In Christ Church, Savannah, on 30 September 1969, he was consecrated bishop, the 646th in the American succession, to serve under Bishop Stuart. Chief consecrator was Bishop Stuart, assisted by Bishop Henry I. Louttit of South Florida and the Lord Bishop of Nassau, B. Markham as co-consecrators. On retirement of Bishop Stuart in 1972, Bishop Reeves became diocesan bishop, his service of Accession was celebrated in St. Paul's, Augusta as the opening event of diocesan convention; eighteen visiting bishops took part. Bishop Reeves inherited a balanced diocesan budget for that year of $265,734. In his first Convention address he stressed the centrality of Holy Eucharist as the norm for Sunday worship and the obligation of faithful, regular attendance at church. He spoke also of the practice of intinction in receiving the Sacrament, specifying the only authorized way it may be utilized. There were 59 congregations in the diocese. He attended the 1978 Lambeth Conference.
Bishop Reeves was a conservative gentleman with a dry sense of humor. He held a high view of the Church and our individual and corporate responsibility to it as stewards. Many contemporary movements caused him distress; he was only slightly supportive of the 1979 Book of Common Prayer, and adamantly opposed to ordination of women. His first Convention address expressed minimal interest in hymnal revision, the 'renewal' movement, and social involvement on the part of the church. For several years, the customary Diocesan Convention Committee on the Bishop's Address gently took Bishop Reeves to task for his doubts about change, observations which he received gracefully.
Bishop Reeves held regular clergy conferences and retreats at Honey Creek which sometimes included spouses. In 1972 he sent a group of clergy and laity to Dallas, Texas, to participate in Cursillo. With Bishop Reeves' support, they subsequently initiated the program in the Georgia diocese. Evangelism and renewal were encouraged and supported by regular Cursillo weekends at Honey Creek and similar Happening events for high school youth. These programs also proved to enhance community-building within the diocese. The Companion Diocese program formed under Bishop Stuart continued. Our Companion Diocese continued to be Guiana on the Northern Coast of South America, in the Province of the West Indies. A very genial Englishman was the bishop and also the Archbishop of the Province. He visited our diocese, as did a group from Georgia travel to Guiana.
In his Convention address of 1977, Bishop Reeves made clear his position on controversial issues when he said, "I do not apologize for saying that there is a great deal badly wrong in our Church today. I may surprise – even disappoint – some of you by confining my remarks about the ordination of women to one sentence. In my opinion, the provision for 'ordination' of women to the priesthood probably was the most serious single mistake the Episcopal Church has made in the nearly 200 years of its history." He continued, "But this action needs to be seen as but one manifestation of what appears to be a widespread breakdown of sound doctrine and discipline in the Church. Last month a bishop 'ordained' a confessed practicing lesbian. A priest has assisted at the 'marriage' of a man to another man. Another bishop has declined to confirm anyone on the grounds that baptism is sufficient. Yet another bishop insists on 're-confirming' Roman Catholics in order not to offend Protestants who are coming into the Episcopal Church. A Shinto altar or shrine has been set up in one. of the great cathedrals of our Church. Marriage discipline in the Church has been legislated into virtual extinction. Legalized abortion has been approved, albeit with a few mild cautions."
During this time several clergy of the diocese, troubled by the ordination of women, accepted the Pastoral Provision offered by Pope John Paul II in 1980, which allowed for married Episcopal priests to be re-ordained Roman Catholic priests. Three Georgia diocesan priests accepted the offer; Bishop Reeves was supportive of their decision.
In the early 1980's some of the members of St. Thomas Church, Thomasville, became unsettled because of the apparent movement of the Episcopal Church in a liberal direction. They especially wanted to continue the use of the 1928 Book of Common Prayer. Bishop Reeves, being himself in sympathy with these views, gave permission for the founding of another Episcopal Church in Thomas County. All Saints Church was thus formed. An attractive parcel of land was obtained along with a building that previously housed a Roman Catholic Church. In 1981 the Rev'd James Law was called to be the Rector. The parish prospered and a parish hall was constructed. In 1988 The Rev'd Fredrick A. Buechner was called to become Rector.
In his 1978 Convention Address, Bishop Reeves noted: "You will consider one or more resolutions petitioning General Convention to allow continued use of the 1928 Prayer Book, assuming, as I think is reasonable, that the Proposed Book will receive final approval at that Convention. The Presiding Bishop has urged such a provision, and I hope it will be done. Opponents of such authorization point out that this would add confusion to an already complex worship picture, and would move us one step further away from the old concept of Common Prayer. It seems to me that there are already so many legal variations that one more will not hurt, and certainly this one would give encouragement and a sense of continuity to many people who – rightly or wrongly – are unable to accept the Proposed Book".
At 1981 Diocesan Convention, Bishop Reeves said, "Turning to the year past in the Diocese, surely the outstanding event, as we are able to judge these things, was the successful completion of our Venture In Mission program. Our goal was set at one million dollars, which many felt to be impossibly high. We were told that in order to succeed we would have to have one gift of $100,000, or possibly two of $50,000 each. We reached and surpassed our goal although our largest pledge was $30,000".
Returning to the Prayer Book issue in his 1983 Convention address, Bishop Reeves stated, "Most emphatically I am not suggesting a return to the 1928 Book, nor a criticism of our present Book. I am suggesting a criticism of the process that produced the Book, and suggesting it mainly as a caution against repeating the error in future reforms. In some instances we have put the cart before the horse, and reformed before we were renewed: Perhaps we counted on reform to produce renewal, which it sometimes does, but not always dependably. It is never too late to get the horse back in his proper relation to the cart and then go ahead with the work that needs doing, and this, without incessant criticism and complaint. Most of our clergy and lay people have accepted our new Prayer Book, many with enthusiasm; some of its most vociferous critics really do not know it. I would like to see us, one and all, cheerfully use it as the quite adequate instrument it is for our corporate worship, at the same time making our notes about changes that ought be made in it, which changes surely will come, as changes in Prayer Books always have come".
"Reviewing the nearly fifteen years I have been with you, I note that this has been a turbulent time in Christendom generally, certainly so within the Episcopal Church. Between that day in May 1969 when I was elected Bishop Coadjutor of the diocese, and the day in September when I was consecrated, there occurred a Special General Convention of the Church in South Bend, a convention that concentrated on the role of the Church in social outreach, a convention that was marked – and marred – by demonstrations, political maneuvers, and strident oratory." Because of what he perceived as an increasingly liberal agenda of General Convention, Bishop Reeves did not attend General Convention and House of Bishops meetings during his final years as Diocesan.
Bishop Reeves established seven congregations in the diocese during his: St. Francis of Islands, Savannah, and St. Mary Magdalene, Louisville, both in 1976; All Saints, Thomasville, Atonement, Hephzibah, and St. Barnabas, Valdosta, in 1980; St. Thomas Aquinas, Baxley, in 1982; and St. Elizabeths, Richmond Hill, in 1983.
Bishop Reeves retired in February 1985 upon succession of his coadjutor bishop, Harry W. Shipps. Upon Adele's death, he moved to Hendersonville, North Carolina. He died April 15, 2010, and his Requiem Mass was celebrated in St. John's, Savannah, where his name had long been on the masthead as Honorary Associate.